Business Co-Founder: The Emotion Lab
Industrial Design Studio, Barcelona.
The Emotion Lab was a turning point in my career which gave me excellent experience in setting up a design studio in a multicultural environment. It was here that my vision became more business focussed and I came to understand that business success does not rely solely on great design.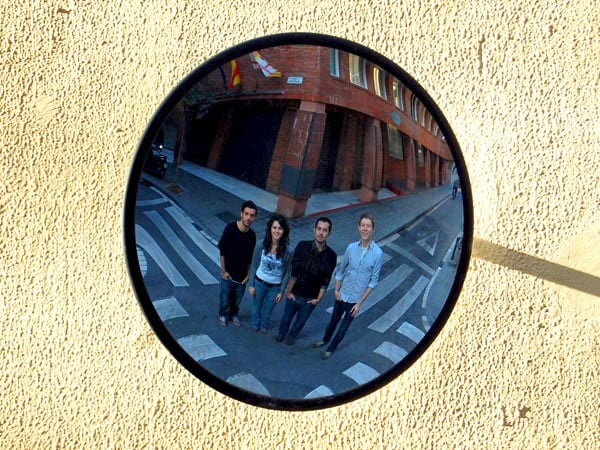 I directed our communication, PR and marketing strategy as well as actively managing the studio and overseeing the design process. We were published in the leading design blogs and magazines around the world. Relationships were built with opinion leaders while a solid base of followers were attracted to our various social media platforms.
The Emotion Lab was formed by four designers from three distinct continents - Tom Allen (Australia), Christian Vivanco (Mexico), Yago Rodriguez (Spain) and Marta Falcón (Spain).
Our unique multicultural perspective stemming from such diverse experiences, traditions and approaches, offered a simple, honest and functional approach to design, centred on the generation of rich, lasting emotions. Our ideas responded to a deep observation of human behaviour and as a result we found solutions based on the present and future emotional needs of the user. Creating meaningful, emotive experiences is vital for the success of a companies' products and services; for products which only satisfy usable, intuitive and functional considerations are no longer sufficient. More than designing objects, we wanted to generate and provoke emotions and experiences which you would never forget.
Results:
- Provided design work for a number of european design producers.
- Published in world's leading design magazines and blogs.
Featured Products: Moonwatch, Screen light, Safe Bike Rack.
Moonwatch was designed as a concept by The Emotion Lab to establish a relationship between the moon cycle and a person's emotional states. It's a new concept of time based on nature which invites people to reflect upon and gain a closer understanding of their mood and daily life on earth.
The moon has been a guide and object of admiration and mysticism during thousands of years. Agriculture, fertility, tidal patterns, human behaviour and many other activities have been linked to the different moon phases.
With Moonwatch, a person is always able to determine exactly what phase the moon is in. Clouds, pollution or a general ignorance to the moon cycle are no longer an issue. With time and observation, a person can find patterns which sync their behaviour or happenings to the different phases.
The Moonwatch also indicates the time with a user being able to switch between the two interfaces with a push of the button. During the day, the time is indicated with a black background and during the night the interface changes to white in order to improve visability. A small solar cell helps to charge the watch; another analogy which highlights the relationship between sun and moon.
Working? Eating? Relaxing? Making love? We require different types of light for different situations.
The Screen light is a playful and adjustable window of light ready to adapt. By lowering the different screens, you can create the perfect tone and ambient - from bright white through to a rich, warm environment for any situation you may encounter.
Cities are dangerous. The world is dangerous. We just want to be safe. We want our belongings to be safe.
Padlocks have been around for hundreds of years and have become a symbol of security. Safely park your bike (don't worry about scratching it; we've taken care of that) and walk away worry-free. Relax; it's all good.
CHRISTIAN VIVANCO, HEAD OF INDUSTRIAL DESIGN DEPARTMENT AT CEDIM, MEXICO.
"I have known Tom Allen for the last 5 years as a co-worker and partner. If there is anything I can say with certainty about Tom, it would be his amazing professionalism. He is always focussed and dedicated 100% in all the projects in which he is involved. The principles which Tom has are hard to find in other people nowadays; his strong knowledge not only satisfies user needs, but he always goes beyond responding, taking into consideration social, environmental and emotional needs.
I highly recommend working with Tom Allen as an experience that ensures superior results through a process full of satisfaction."